2018 Opening Night
Opening night is scheduled for Friday, April 27. The annual parade will begin a 5:45 p.m. and proceed to Evans Field for opening ceremonies. Participants should assemble at the Back Beach bandstand no later than 5:30 p.m. Players should wear their uniforms.

Following opening ceremonies the Rookie Division will have a jamboree in the Evans Field outfield. Girls softball will play the opening game at 7:00 p.m.

Pizza and drinks will be sold at Parisi Field after the parade. We hope to see everyone there.

Little League Rules Update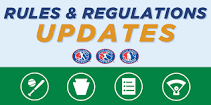 click this image for updates